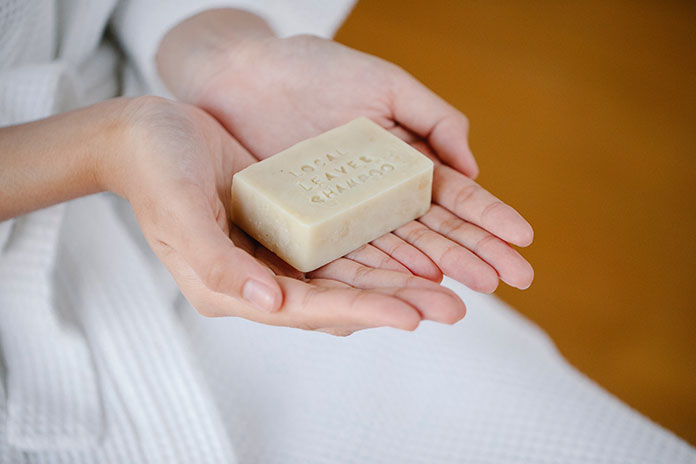 Solid shampoo may become the new standard for washing your hair. Many brands now offer them. You can find it directly in supermarkets, organic stores or cosmetic shops. Except that, if it is essential in the future of shampoo, perhaps you have yet to dare to take the plunge. Are you still skeptical? Well, to use it is to adopt it. Know that it is all good for the planet, for the health of your hair and your wallet. In addition, it is straightforward to use.
How To Find The Best Solid Shampoo For Your Hair?
Solid Shampoo: Definition
A solid shampoo is distinguished from liquid shampoos by its water composition. The stable version is almost waterless, while its liquid cousin contains about 70%. This distinction is essential because by using less water to manufacture soaps for our hair, we save the planet's water resources. Then, the presence of water implies the presence of chemical preservatives that damage your hair and tend to soften it. There are two kinds of solid shampoos:
Those composed of surfactants are foaming agents of vegetable origin that do not irritate the scalp. Often, if you look closely at the wrappers, they are made from coconut shells.
Shampoo soap: This is cold saponified soap that retains all the properties of the oils used. Plant powders and clays are then integrated to adapt them to the hair. Often it will be composed of a ghassoul. This shampoo can be drying, which is why it is recommended for short or medium-length hair (which can get greasy faster).
How To Choose A Solid Shampoo? The Recipes To Favor According To Your Hair Type
Today there is a plethora of solid shampoos. Because hair types vary from person to person, solid soaps meet the requirements you might pursue. Here is a small idea of ​​the components you could favor depending on the nature of your hair.
Normal hair: coconut oil, castor oil, argan oil, jojoba oil, green clay.
Dry hair: coconut oil, pink clay, sweet almond oil, shea butter.
Oily hair: jojoba oil, green clay, nettle powder, coconut oil.
Damaged hair: castor oil, borage oil, coconut oil, pink clay.
Curly hair: coconut oil, liquid oil, ylang-ylang essential oil, shea butter.
We prefer to alert you to the essential oil in certain shampoos, which can irritate the scalp depending on its fragility.
Also Read: Hair Toner: Usefulness, Choice, Application
Where To Buy Its Solid Shampoo?
Now you can find it everywhere! We recommend that you turn to shampoos made in France. In a non-exhaustive way, we can recommend the brands: lamazuna (available on Greenweez or in your organic supermarket), Unbottled or Pachamamaï. Also, can you find out about local soap makers near you?
How To Choose A Solid Shampoo In Supermarkets?
You will also find some references on the shelves for extensive surface profiles. The Ultra Doux solid shampoo from Garnier or the Dop brand will help you switch to solid soaps.
For DIY experts, making your solid shampoo at home is possible.
How To Wash Your Hair With A Solid Shampoo?
The first wash with a bar of soap can be confusing. Because it contains fewer chemicals than a "classic" shampoo, it foams less. How your hair looks out of the shower can also seem strange. Indeed, less softened by silicone, the hair is sometimes more difficult to disentangle. Finally, the look of your beloved hair can be tackier. This can come from a shampoo not adapted to your scalp or inadequate rinsing. To avoid all this, we have a method.
Wet your hair as usual.
A – For short hair, rub the soap in your hands until you obtain a foam which you then apply to your hair. Massage your scalp as usual.
B – Pass the bread over your long hair after rubbing the shampoo between your hands. Once the foam is distributed on your head, massage gently as usual.
Rinse thoroughly with clean water. Avoid too hot water, which promotes sebum production and greases the hair faster.
Store your solid shampoo in a reasonably dry place to prevent it from melting in the shower.
Why Use A Solid Shampoo? Proof By 3
It Is More Environmentally Friendly Than Liquid Shampoo
The end of the over-packaging is launched. The packaging of such a shampoo is reduced to its bare minimum: paper, cardboard and sometimes even a reusable box. The latter will be very practical to protect your soap and transport it. Conversely, a bottle of liquid shampoo is almost always plastic. In India, 174 million bottles of shampoo are thrown away every year. As mentioned at the beginning of this article, the production of solid shampoo is less expensive in water and devoid of chemical preservatives. These preservatives in "classic" shampoos are found in pipes and groundwater later.
It Is Suitable For The Wallet
On purchase, you might think it is more expensive than bottled shampoo. Think again. A solid shampoo lasts much longer. Two shampoo bottles are worth one solid shampoo. Depending on the weight of the soap, it is possible to make 30 to 60 shampoos on average.
It Takes Care Of The sScalp
There may be an adjustment period in the transition to solid shampoo. You may sometimes have the impression that their texture is different. The very smooth appearance of the hair with a classic shampoo is due to the presence of silicone and preservatives. A quality solid shampoo is made from exclusively natural ingredients. Little by little, your hair will be healthier. Here you are with all the keys to changing your hair care routine that we recommend you accompany with natural care. For the more seasoned, making your own solid shampoos at home is possible.
A Solid Shampoo Recipe
Here is a simple recipe, easy and adaptable to your hair! Here we offer you a recipe for oily hair, but by adapting the powders in the shampoo, you can vary its effectiveness.
Equipment
Ingredients
60% plant-based surfactant (coconut type)
10% water
10% olive oil
10% green clay
10% shikakai powder
Instructions
In a bain-marie, melt the surfactant, water and olive oil. Stir
Add the powders. Mix
Take out the fire and put in the molds.
Let dry for 3 to 4 days.
Depending on the nature of your hair, feel free to adapt this recipe by varying the quantities or changing the powders… This is the advantage of homemade!
Also Read: Hair Shrinkage: Causes And Consequences