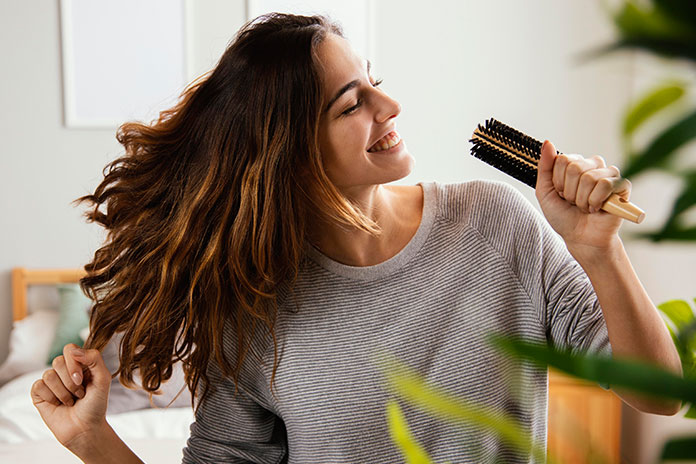 Do you want to add a touch of sunshine to your hair? Would you like to ease up your hair without harming it? Good news! There are 1,000 and one ways to enhance your look without synthetic products. Want to know more? We have selected for you nine ways to lighten hair naturally.
Use Honey
It is well known that honey is the treasure of bees! It contains beneficial substances that beautify the skin when applied as a mask. And that's not all! Honey has another plus, as it is perfect for naturally lightening hair while nourishing it. Do you want to learn how to use honey to care for your hair?
Grab a jar of this golden nectar; mix three tablespoons of honey into your favorite hair conditioner.
Wash your hair as usual, then cover it with your preparation.
You will leave the love and conditioner on for 1 hour before rinsing.
C'est fini!
Prepare A Chamomile Decoction
Did you know? Chamomile flower contains a substance that helps lighten hair. In addition, it is very soft and respects the material. Want to use chamomile to get mermaid hair?
Boil a litre of water and immerse the flowers in it.
You will let everything infuse overnight before filtering the preparation.
Your chamomile decoction is finished! All you have to do is apply it after each shampoo.
Air dry your mane, and voila!
Opt For Cinnamon Powder
Cinnamon powder is delicious in cakes and cookies, but that's not all! You can use this spice to lighten your hair. To do this, dilute a tablespoon of cinnamon in your usual conditioner, then wash your hair. Finally, apply this preparation to your head and leave it to act for about an hour before rinsing it with clean water. You will love the result!
Squeeze The Juice Of A Lemon
Here is a proven recipe for lightening hair naturally: you will use the juice of a lemon.
To use this trick, all you need to do is:
Squeeze the citrus fruit, then dilute the juice, thus obtained in water.
For this mixture into a spray bottle.
Apply this preparation by spraying it on your hair before sitting in the sun.
The acidity of the lemon will open the scales of your hair and bleach the natural pigment inside the hair fiber. As you will have understood, this solution is adequate but a little aggressive. Also, you will have to do a hair mask after your lemon treatment to restore the softness of your hair.
Also Read: Hair Shrinkage: Causes And Consequences
Do A Vinegar Rinse
Rinsing with vinegar is a technique that comes to us from our grandmothers. They loved using this substance to degrease the hair, close the scales and add shine. White Vinegar has another advantage! It naturally lightens the hair when diluted in water. Want to know how to do it? It's easy! Fill a spray bottle with tap water, then add half a glass of white vinegar. Shake the preparation vigorously before applying everything to your hair after each shampoo.
Fall For The Olive Oil Mask
Are you looking for a tip to take care of your hair while lightening it? Here is the ideal solution for you! You will simply replace your hair mask with olive oil. Need to know how to utilize this item?
Apply olive oil well to your entire hair before shampooing, and leave it on for several hours if possible. You can sit in the sun with a good book and a cup of tea to accentuate the golden highlights. Then, all you have to do is slip into the shower to shampoo with the product of your choice. Finally, dry your hair naturally. Your olive oil mask is finished! You can now admire the pretty golden highlights that embellish your locks.
Make A Homemade Lightening Treatment
Do you like DIY treatments, and are you looking for a recipe to brighten your hair before summer? In this case, grab a salad bowl or a large bowl; we will concoct a hair mask that will bring a touch of sunshine to your summer style.
In the container you have chosen, you will mix the following ingredients to obtain a homogeneous preparation:
One whole egg
One tablespoon of honey
One tablespoon of olive oil
One tablespoon of lemon juice
One teaspoon of cinnamon powder
Once your mask is finished, apply it to your hair and let it act for 1 hour or two before washing it with your favorite shampoo. You only have to let it dry in the sun to obtain pretty reflections.
Test The Baking Soda
It's amazing! Baking soda has lightning power. Are you intrigued?
Grab a lunch bowl and pour in some lukewarm water and baking soda until you have an easy-to-handle paste.
Then spread this mixture on your wet hair and leave it on for 10 minutes before rinsing with clean water.
You will finish this express treatment by applying vegetable oil to nourish the lengths and protect the ends.
Get The "Beach" Look With Salt Water
Do you want to lighten your hair while enhancing your natural curls? Are you dreaming of a "return from vacation" style? We have the perfect solution for you!
You will make a lightning spray by mixing warm water and a tablespoon of coarse salt.
Add a few drops of lemon juice to flavor the solution.
All you have to do is let everything cool before applying your new beauty spray to your hair.
Take the chance to redefine your curls using the palm of your hand and let it dry in the sun. You will love the "beach" effect!
You have just discovered nine easy tips to practice to lighten your hair naturally. You should simply choose the technique you like. You can alternate between all these techniques as you wish or depending on the ingredients you have. Whatever your choice, you will love your pretty golden locks!
Also Read: Solid Shampoo: The Beauty Of Hair Rediscovered Naturally