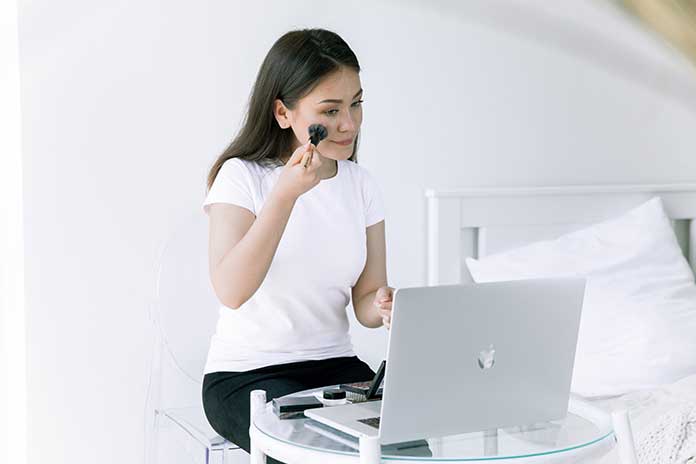 Flawless skin, relaxed features, and a radiant complexion… are not reserved for the lucky ones! All it takes is often a few sound pieces of advice and the right products to correct certain bad habits and preconceived ideas.
I Use Night Care All Year Round!
Organic night care. Vegan, this night cream helps fight signs of fatigue thanks to an organic saccharide and hyaluronic acid duo, with sweet almond and olive oils, antioxidant vitamin E, and finally, lecithin and sterols to protect the skin barrier.
What Are The Beauty Secrets Of Dermatologists For Having Beautiful Skin All Year Round?
I Use A Night Cream All Year Round!
A widespread misconception is that the skin must "breathe" at night and that nothing should be applied before sleep. For what? The skin works according to a principle of chronobiology: during the day, it defends itself by activating its protective mechanisms against attacks. It repairs itself at night and can, therefore, fully benefit from the active ingredients in a cream. The right reflex? Adopt a night cream containing non-comedogenic lipids (essential fatty acids, ceramides, and cholesterol), which form a film limiting water loss, therefore dehydration, while allowing the active ingredients to act effectively.
I Don't Erase My Face At All!
Many women exfoliate once or twice a week, believing that dead skin cells need to be removed to make the skin more radiant and receptive to active ingredients. For what? It only weakens the skin. Its cell renewal cycle is 28 days. The corneocytes form a natural protection on the surface of the epidermis, which must be preserved. The right reflex? Adapt to this cycle by exfoliating once or twice a month with a gentle exfoliant that does not sensitize the epidermis: enzymatic (salicylic acid, fruit acid) or mechanical (jojoba beads, gum). Use on damp skin, using light circular movements with your fingertips.
Also Read: The Best Skincare Routine To Follow After 30
I Gently Remove Makeup From My Eyelids!
Avoid removing makeup too quickly by rubbing to eliminate stubborn traces (mascara, pencil, etc.). For what? The eye contour region is the most fragile area of ​​the face. It is also the one that ages the fastest. The eye contour area should be treated gently, starting with makeup removal—the right reflex. Choose a makeup remover with physiological pH. Prefer a liquid formula and generously impregnate two cotton pads. Apply them for 30 seconds on each eyelid before dabbing without rubbing. The makeup will have had time to dissolve and will be removed effortlessly.
I Don't Strip My Oily Skin!
We mistakenly think you must purify your skin by cleaning it with degreasing products so it does not shine too much during the day. For what? Combination or oily skin needs both water and lipids. By cleaning it with too aggressive cosmetics (soap, alcoholic lotions), we unbalance it. The risk? Reactive hyper seborrhoea (the skin becomes oilier). The right reflex? Bet on very mild cleansers in the form of soap-free gel or micellar water; those with sebum-regulating and antibacterial active ingredients, such as zinc, using lukewarm water without damaging your skin with friction.
I'm Fine-Tuning The Evening Toilet!
Be careful not to confuse cleaning and makeup removal: even when you don't wear makeup, you must clean your face before bed. For what? During the day, pollution of all kinds, impurities, dust, cigarette smoke, and skin secretions… accumulate on the epidermis. Therefore, eliminating them before applying your night cream is necessary. The right reflex? We cleanse our skin every evening without forgetting the neck and décolleté. Use a quality cotton or soft cloth and lukewarm water, and avoid rubbing.
I Do Not Attack My Dilated Pores!
The habit of splashing cold water on your face to tighten pores and smooth features is a mistake to avoid. For what? The skin will react badly. The thermal shock breaks the intercellular bonds of the skin, which leads to redness and dryness. In addition, the pores will not be tightened. The right reflex? To reduce the problem of visible pores, use a cream based on retinaldehyde, a natural derivative of vitamin A, in the evening. This treatment reduces the plugs formed by keratin and sebum, which are responsible for dilated pores and blackheads…
I Always Put Moisturizer Under My Makeup!
The mistake is to think that the foundation is moisturizing enough to do without day cream. And even more, if you have oily skin and are afraid that the makeup won't hold. For what? Unlike BB creams, a foundation is never moisturizing enough, even if the skin is oily or in combination. With prior hydration, the foundation will hold better. Instead, you can prolong its hold by adding a care base. The right reflex? Apply the right amount of moisturizer. Its texture must be adapted to the type of skin and the season: a rich cream for dry skin in winter or, the opposite, a simple fluid or serum for oily skin in the summer. Wait a few minutes before applying the foundation, so the skin absorbs the day cream.
Also Read: Makeup And Your Skin: Let's Talk About It!
I Do Not Exclude Any Product!
Feeling that it is desirable to utilize just natural and regular items to guarantee great well-being is a continued error. For what? Extremely dynamic plant concentrates and natural balms can cause sensitivities. Furthermore, denying yourself of pragmatic and controlled particles is a disgrace. The right reflex? Go ahead and consolidate natural beauty care products and superior beauty care products. If the skin presents an unfavorably susceptible and delicate ground, privileging the items with a couple of ingredients is essential. The more limited their rundown (INCI), the more the dangers are limited.
How To Protect Your Skin From Pollution?
The skin is an organ whose magnificence and well-being rely upon exact chronobiology. Resting around evening time, it fixes and recovers. Dynamic during the day, it shields itself and safeguards itself from extreme hostilities, quite a contamination. In any case, the last option disapproves of destructive repercussions on the skin. To such an extent, the subject is presently one of the significant points examined at logical dermatology congresses. Contamination influences city occupants the most. In the bleeding edge, sportswomen practice outside. Their skin goes through environmental impacts combined with exertion (sweat, overheating, etc.).
How Does Pollution Impact Our Skin?
These are poisonous microparticles from carbon residue and exhaust gasses from modern exercises (ozone, nitrogen oxide, sulfur dioxide). A large number of days, contamination prompts a fountain of minor irritations that debilitate the skin. She turns out to be considerably more delicate, drier, and blushes. The composition grays, pores widen, pigmentation shows up, and skin breaks out and deteriorates into a mix and sleek skin.
What Treatment To Do In The Morning To Help Your Skin Face Pollution?
After arousing light hydrolipidic film structures on the skin's surface, as it is defensive, dermatologists suggest not contacting it a lot by delicately washing the face with the assistance of a warm fog or a bloom hydrosol. Then, at that point, now is the ideal time to arm your skin before going out for the afternoon or before an open-air sports meeting.
Apply your typical day cream, whether saturated or treating it (against skin inflammation, redness, hostility to maturing, etc.). We support the security with a hint of serum(before the day cream) or a shroud of care fog (after the day cream) moved-in cell reinforcements as a safeguard—bosses of self-preservation block most free extremists. As in a contaminated climate, it is vital to safeguard yourself from UV beams, and it is fitting to add an SPF (15 to 30) lasting throughout the year.
Perfect Skin: What Anti-Pollution Routine To Adopt In The Evening?
The contamination particles have collected on the outer layer of the epidermis. To dispose of it, cautious cosmetics evacuation is fundamental. New-age facial chemicals (foam, gel, oil, and so forth) consolidate depolluting dynamic fixings that take out urban pollution. One time per week, apply a particular detoxifying and oxygenating veil for the skin.
During rest, the phone movement of the skin is maximal to fix oxidative pressure harm. In this manner, applying a designated night cream whose dynamic fixings animate microcirculation, calm provocative peculiarities, and help cell recovery is fundamental. This is even more valid for delicate and quickly sharpened skin, which is known to be in danger of snugness, in any event, while awakening.