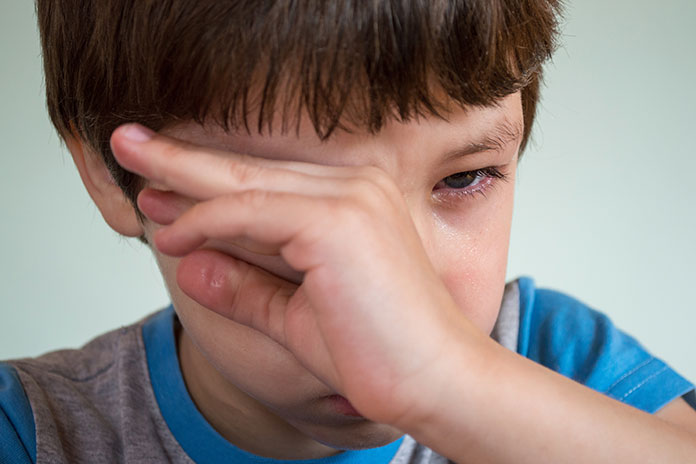 Generally benign, conjunctivitis is this inflammation of the conjunctiva membrane, which lines the eye's white and the eyelids' inside. Here is our guide on how to behave in case of conjunctivitis. We will also suggest some natural remedies that can help relieve this ailment.
The Causes Of Conjunctivitis
It can be caused by viruses and bacteria but is accentuated by eye strain due to a long stay behind a computer. It can also be a symptom of an allergy or excessive exposure to pollution.
Symptoms Of Conjunctivitis
Conjunctivitis is a disorder that affects the eyes and causes redness, tearing, and severe irritation.Then, the eyes are red, swollen, watery and itchy, without affecting visual acuity.
How To Remedy It Safely, In A Natural Way?
On the condition of being sure that it is indeed simple conjunctivitis – the best diagnosis remains that of an ophthalmologist – know that this inflammation can be of allergic origin, irritation, viral or bacterial.
Conjunctivitis: Hygiene Above All Else
The first way to relieve it is behavioral hygiene: in any case, do not rub your eyes and wash your hands well! If it is irritation conjunctivitis – shampoos, contact lenses, eye drops – remove the source of irritation and regularly rinse the eye with clear water; The same goes for viral conjunctivitis, for which there is no treatment: the best way is to rinse your eyes with clean water, then wipe them with a sterile, single-use compress; In the case of allergic inflammation, the only way is to eliminate the allergen source. Finally, in the case of bacterial conjunctivitis, if only one eye can be affected, it is very contagious and requires consultation to prescribe a possible treatment.
Also Read: Iron Deficiency? Here Are The Best Natural Remedies
Natural Remedies: Consider Astringent And Soothing Plants
In short, this inflammation is treated by hygiene and, in part, by taking your pain patiently.
Still, herbal medicine is very effective in accelerating this second aspect: the medicinal properties of certain plants also apply to the conjunctiva. Some common plants are astringent and soothing: they are also in the case of the eye. Thus black tea, feverfew, calendula flower – also known against mosquitoes – or even parsley and even lavender :
Make a simple decoction,
Of course, let it cool,
Apply as a compress, as many times as you feel the need, on the closed eye.
This will help deflate it and ease the irritation.
Cold Water
Cold water is the most immediate and effective remedy for conjunctivitis. Cold water wraps are recommended for viral conjunctivitis to relieve pain and itching. Viral conjunctivitis can be one of the consequences of a cold or the flu. To avoid eye infections with viruses when you are sick, avoid rubbing your eyes with your fingers.
Chamomile Sachets
Chamomile sachets are one of the best-known remedies for conjunctivitis and red eyes.
After preparing the chamomile, keep the sachets in the oven, let them cool and wring them out before applying them to the eyes. Alternatively, you can also put the chamomile tea on clean cotton handkerchiefs and use them to put them on your eyes and leave them on for a few minutes.
Mauve
Like chamomile, mallow is a medicinal plant with a calming effect, ideal for the eyes, even in cases of conjunctivitis. In this case, you can buy mallow in sachets to prepare an infusion, following the instructions on the package. After squeezing and letting the mallow bags cool, you can apply them to closed eyes. You can also use tissues in a hot or cold infusion.
Also Read: Let Children's Fever Vent Well With These Simple & Ancient Natural Remedies
Witch Hazel
Witch hazel, combined with chamomile essential oil, is a natural remedy for conjunctivitis.
You should add a chamomile essential oil to a spoonful of witch hazel tincture (found in herbal stores). The mixture should be mixed with 30 milliliters of rose water for 6/7 hours. Then you must strain it through a gauze and apply it to your closed eyes like a packet.
The Clay Poultice
The benefits of clay also apply to the conjunctiva. Again, clay compresses on the closed eye will relieve swelling and irritation.
Colloidal Silver
Colloidal silver is a natural antibiotic that can be used for humans and animals. One of our readers, for example, used it successfully to treat his dog, who was suffering from severe conjunctivitis. The treatment was carried out by applying colloidal silver as an eyewash twice or thrice daily. It can also be used on animals to fight infections caused by bacteria and parasites.
It is also suitable for men. It eliminates germs and strengthens the immune system without compromising the action of our body's enzymes.
Euphrasia Officinale
Euphrasia is a herbal remedy suitable for relieving the symptoms of eye inflammation caused by conjunctivitis. It can be bought in herbalism to prepare an infusion which must be filtered and used cold for the preparation of soothing wraps to be applied to the eyes.
Euphrasia is also used as a homeopathic remedy.
Black Tea Or Desmodium?
The inventory of plants is a "choice". If you want to keep it simple, you can even use a decoction of black tea to apply as a compress or as an eye bath (with the eye open, there is no danger).
Do you know desmodium if you want exoticism – not forbidden– especially if your conjunctivitis is allergic? Like other plants, this stimulant of the immune system of African origin exists in the form of EPS or standardized plant extract. It is used as a decoction to apply and, in case of allergy, here is what is effective in herbal tea.
Licorice
Nothing against viral conjunctivitis? Try the liquorice decoction all the same; very useful in the case of conjunctivitis due to herpes. Finally, since you are even irritated, you look at your diet: a zinc deficiency may very well cause one or more repeated conjunctivitis.
Acupuncture
Acupuncture is indicated as a useful remedy for moderate conjunctivitis or allergies. Acupuncture has local anti-inflammatory and analgesic action, which can effectively relieve pain and redness. It is necessary to seek the help of an expert to obtain the most appropriate treatment.
Chinese Medicine
Chinese medicine suggests intervening in treating conjunctivitis caused by allergies with greater care in diet. It is recommended to avoid red meats, shellfish, seafood, spices, coffee and foods that are too fatty and seasoned.
Also Read: Do I Have A Sinus Infection? These Symptoms Are Typical