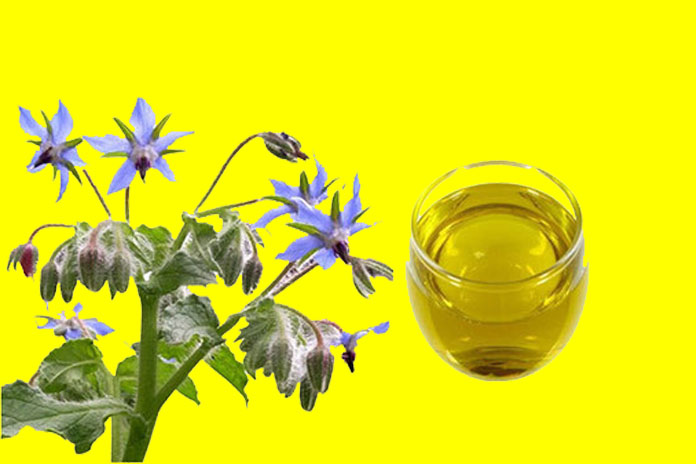 This precious oil has regenerating, calming and restorative properties. Borage oil is another oil that completes the panoply of women who love natural care.
Borage
Borage or Borago officinalis is a plant native to Syria and is now found throughout the Middle East and the Mediterranean . Characterized by its starry blue flowers, and it is with the seeds of this plant that the oil is obtained by cold pressing as with all good quality vegetable oils.
What Is Borage Oil?
Extracted from the seeds of the Borago officinalis plant, this oil is rich in gamma-linolenic acid (GLA), an essential fatty acid. And it can be used orally or on the skin for its benefits for dry, irritated skin and to soothe itching and redness.
What Are The Benefits Of Borage Oil?
Less known than coconut or argan oil, this oil is just as worth the detour since it has many active ingredients for the skin and hair and much more. Used for its sudorific (antiperspirant) properties, it is strongly recommended in cosmetics for its nourishing and anti-aging properties. Very rich in gamma-linolenic acid ( omega 6 ), polyunsaturated essential fatty acids and vitamin E, this oil restores radiance to the skin thanks to its regenerating, calming and therapeutic properties. Intense anti-aging treatment helps slow down skin aging while protecting it from external damage. Also softening, it maintains the tone and elasticity of the skin and helps, for example, to prevent the formation of stretch marks in pregnant women.
What Are The Benefits Of Borage Oil For The Face?
Thanks to gamma-linolenic acid, the oil has many benefits on the face:
Hydration: it will help nourish dry skin.
Anti-inflammatory: thanks to its anti-inflammatory properties, it helps to calm irritated or sensitive skin.
Anti-ageing: Rich in antioxidants, it helps protect the skin against the effects of free radicals and helps reduce the appearance of signs of aging, such as wrinkles and fine lines on the face and neck.
Repair: the fatty acids of this oil actively participate in the regeneration of the cutaneous barrier of the skin, and improve its texture and appearance.
Acne Reduction: Its anti-inflammatory properties can also reduce inflammation caused by acne.
To take advantage of its virtues, you can apply it directly to the skin, massaging gently. Mixing it with other vegetable oils, such as avocado or pumpkin seed oil, is possible to make an anti-wrinkle oil for the face. It is always advisable to test on a small skin area before using it for the first time to avoid allergic reactions.
What Are The Benefits Of Borage Oil For Hair?
On the hair, the oil also provides many benefits. It restores suppleness and shines on dry and brittle hair. It is advisable to apply it pure on the tips after shampooing or add it to the hair care composition.
Also Read: Baobab Oil: The Secrets Of Longevity
What Are The Uses Of Borage Oil?
Preventing and treating various female problems are properties that are also attributed to it, namely:
Premenstrual symptoms
Female infertility
Hot flashes
Mood swings
Menopause
Therefore, It will find its place among all who wish to take care of themselves naturally.
Borage Oil And Weight Gain
The level of omega six present in this oil increases to the detriment of omega 3, which must, on the contrary, be balanced. If used for more than two months, it can cause significant weight gain.
Borage Oil And Weight Loss
The gamma-linolenic acid in borage oil helps lower blood sugar levels, making it useful for people with diabetes. In addition, it is very rich in potassium, which promotes renal activity and diuresis with a consequent anti-cellulite action. However, it cannot be considered just a slimming oil. It can cause diarrhea due to the many fats that increase intestinal motility and lead to weight gain due to the high presence of omega-6 fats.
Borage Oil In Capsules
The oil can be consumed to season vegetable dishes or in capsules as a dietary supplement.
You can take two capsules a day near meals. The supplement should be limited to 2 months because this oil is rich in fats. This oil is easily found in capsules as an integrator.
Also Read: Is Too Much Evo Oil Bad? Let's Find Out
What Are The Side Effects Of Borage Oil?
The oil extracted from borage seeds presents no risk of toxicity. It is contraindicated in patients with:
Hemophilia patients are treated with anticoagulants because it helps to thin the blood and increase the risk of bleeding.
Gastrointestinal problems: it can cause stomach upset, nausea, vomiting, abdominal pain, diarrhea or constipation.
Allergy to borage or its oil, symptoms such as rashes, itching, difficulty breathing or swelling may occur.
Hormonal imbalances: due to its rich phytoestrogen content, the oil may affect sex hormones. It is therefore recommended that pregnant or breastfeeding women consult a healthcare professional.
Liver problems, the oil has a low risk of liver toxicity due to its pyrrolizidine content, which can be toxic to the liver. Therefore, It is recommended to choose high-quality products and not exceed the recommended dose.
In any case, for more information, do not hesitate to ask your doctor for advice.
Recipe With Borage And Borage Oil
Here is a savory borage tart, as simple as it is delicious. The great classic of joy, to be enjoyed as a starter, as a vegetarian main course, in squares at aperitif time and to take away for a packed lunch.
2 round puff pastry ready to roll out
350 g of borage
300 g of ricotta
Two eggs plus one yolk
40 g of grated parmesan
Nutmeg _
Two tablespoons of borage oil
Salt
Pepper
Preparation
Clean the vegetables. Remove the ends and separate the leaves. Wash them carefully under running water, then blanch them: when the stalk is soft, you can drain it. Roughly chop.
Mix the well-drained ricotta from its whey and the borage in a salad bowl. Add the eggs, grated cheese, a pinch of nutmeg, salt, pepper and oil. Knead the ingredients well to obtain a smooth and homogeneous mixture that you will transfer to a bag. Roll out a puff pastry and line a 22.5 cm diameter mold (with parchment paper).
Pour in the borage and ricotta filling and level it with a spatula. Roll out the second puff pastry and make many small slits to allow the moisture the filling releases to pass through, avoiding puffing the pastry. Place the other dough on the filling and seal the edges well with your fingers. Cut off the excess. Brush the surface with the egg yolk and put it in the preheated oven at 180° for about 30 minutes. Leave to rest, turn out onto a serving platter and serve hot or warm.
Also Read: Discover All The Benefits Of Hazelnut Oil