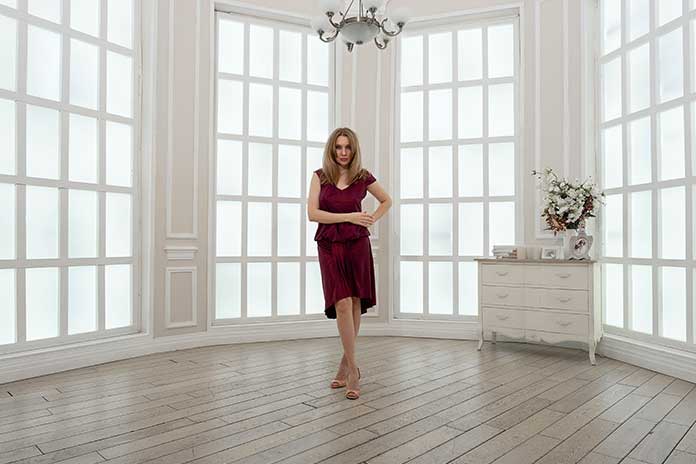 To look slimmer effortlessly, we give you ten tips to reconcile your body with your wardrobe.
I want to look less chubby; how do I dress?
Divert attention by betting on a detail that will catch the eye, such as a flower hanging from your jacket, a hat, intense lipstick, or earrings.
Buy clothes in your size: if you are a 42, wear a 42, not a 44 or 40. Many women want to camouflage their curves by dressing in loose clothing or, on the contrary, too tight, hoping to mitigate. It is a mistake!
Go for straight and fitted cuts—the correct option: is dark slim jeans or consecutive pants that slim the leg. Avoid adding volume to the lower body. For skirts, favor the length above the knee so as not to break the leg's curve.
If your chest is generous, avoid blouses that tend to open up in this area. Opt instead for tops with a V-neckline, which elongates the silhouette, flatters the neckline, and enhances the face.
Forget the tight and short tops, unflattering for the small belly curves. Tuck your straight top into the pants or skirt, making it slightly bloused. You can belt it to draw your waist. Choose fitted jackets that you will leave open.
If you wear a tunic, prefer a length at the pelvis or covering the buttocks, being careful not to make your silhouette disproportionate (top too long = shortened legs and elongated bust). Always ensure the correct balance between your bust and your legs
Prefer fine and fluid materials (silk, muslin, lace…) which lighten the silhouette, and avoid thick materials (tweed, velvet, chunky knit…). As for underwear, the stretch material will be your best ally.
If your curves are not advantageous (ex: saddlebags), attenuate them by wearing dark colors. On the other hand, highlight them with white or bright colors if they are assets. However, you will avoid overly busy patterns, which make the line heavier.
The heel, the heel, the heel! A small 5 cm heel is enough to give a feminine and graceful look while keeping the comfort we are all looking for. Go for spiked heels rather than wedges.
Finally, assume your curves and experience them as assets of sensuality and joie de vivre! Above all, do not hesitate to reveal a little skin: showing a pretty nape of the neck through a ponytail helps to lengthen the silhouette and make it feel sexier.
Also Read: Finally Slim! Lose Weight Successfully With These Eight Tips
How To Dress According To Your Morphology?
There is not one type of morphology, but several. To enhance your silhouette, you have to highlight your assets. Easy with our explanations!
I Have A Morphology In O (Round)!
The shapes are curved, generous, and harmonious because the curves are well distributed over the entire body.
To adopt Fluid materials. Dark tones for clothes. Color for accessories. Straight skirts, straight dresses with a low neckline.
Avoid Cropped pants or corsairs. Turtlenecks and anything that encumbers the neckline. Cropped, sassy jackets. Fine jewelry.
I Have An A Body Type (Triangle Or Pyramid)!
The upper body is slender, with narrow shoulders and a small chest. The waist is thin, and the stomach is flat. Conversely, the lower body widens: the buttocks and thighs are rounded.
To adopt Shouldered jackets. V-necklines. Straight-cut pants or jeans. The volume in the upper body.
Avoid Tight-fitting, pleated or side-pocketed pants. Light colors for the bottom. Straight skirts. Horizontal stripes.
I have A Morphology In H (Rectangle)!
The shoulders and hips are about the same width, and the low waist accentuates the androgynous side of the silhouette.
To adopt: Wrap tops. Vaporous fabrics. Straight cuts (trousers, skirts, etc.).
Avoid Trapeze shapes. All types of jackets: bombers, teddies, bombers… Wide cuts. Large sizes.
I Have A Body Shape Of 8 (Hourglass)!
The shoulders and the hips are the same widths, the waist is delicate and the chest generous, and the shapes are luscious.
To adopt Slim cuts. Fluid materials. Low contrast prints. Wrap-over shapes.
Avoid Cuts that add volume… Pants, skirts, leggings… close to the body. Loose, unsuitable clothes. Straight cuts (jackets, jackets, coats, etc.).
Also Read: These Five Styling Tricks Make Solid Upper Arms Look Slimmer