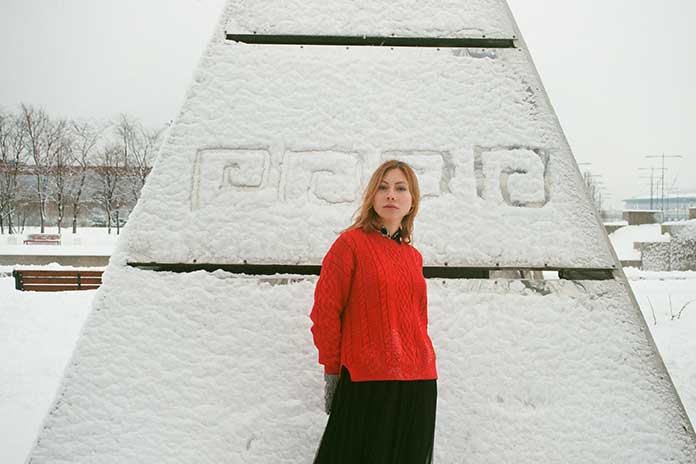 Does the dreary weather hit you in the mood? We have a styling recipe for that: playful dresses! All you need to make the good mood bringers winter-ready are some extra ingredients.
For all those still mourning the summer and the airy dresses, now comes the styling rescue: Instead of mothballing your clothes in autumn like every year, keep wearing them! We have the best tips for making the pieces suitable for winter.
Puts On (Thermo) Tights
Even some fashion bloggers demonstrate it with their bottomless looks: Never(!) go without warm tights with a dress in winter – especially not if it's a short model. Bare legs may be possible in the Californian winter, but they are a real no-go with our temperatures.
So remember: tights or leggings are a must if you want to wear dresses in winter. But it also depends on the type of tights. For example, wafer-thin models with a low denier count would be unsuitable for icy winter temperatures.
Better to grab thick tights with wool content. Your advantage: They keep you super warm and immediately give your look a rustic, casual touch. However, our favourites for warm legs are thermal tights.
The opaque, smooth-knit models are available in different colours. You are on the safe side with black, brown, or grey tones.
Style Yourself In Layers
So that you don't freeze in a dress in winter, the motto is the layer, layer, layer! It is best to wear an undershirt under your dress. By the way, tank tops made of merino wool are much warmer than cotton shirts. If a tank top is too cool for you, you can reach for simple basic tops with long sleeves. Ensure that the piece fits snugly and that there are no unsightly creases under the dress.
You can then wear a cosy cardigan over your dress. Also stylish: pull on a casual oversize sweater, under which the skirt of your dress is peeking out.
​
Or you can do it completely differently and pull a tight turtleneck sweater under the dress. By the way, you can also make models with Carmen necklines suitable for winter. Now add a coat or leather jacket – done!
Don't Be Afraid Of New Combinations
Simple dresses are perfect for daring, new exciting combinations. Wear your favourite jeans under the dress instead of plain tights. A long (tunic) blouse can also look great under a short dress.
The unusual dress-over-jeans-and-blouse looks are super popular with fashion professionals right now!
Warm Feet Are The Be-All And End-All
The winter outfit with the dress is ready – the shoes are still missing. Lined boots with thick plastic tread soles are perfect for icy temperatures. Because they reliably protect against cold feet, and you don't slip so easily. Also super nice with a winter dress look: hip overknees. The trend is mainly noble models made of suede.
Our tip: Because suede boots don't protect you so well from the cold, you should wear cuffs under the boots in addition to the tights. Now put thermal or sheepskin soles in the over knees, and the cosy, warm winter shoes are ready!
Don't Forget Winter Accessories
Fashionable women know: Only the accessories make the look perfect. A must if you are out and about for a long time: hat or headband, scarf, and gloves.
While it's a myth that most body heat is lost through the head, the skin on the face and ears is particularly sensitive to cold. And the knitted accessories give the outfit that wintry touch.
Also Read: How Can You Reduce And Prevent Cellulite?