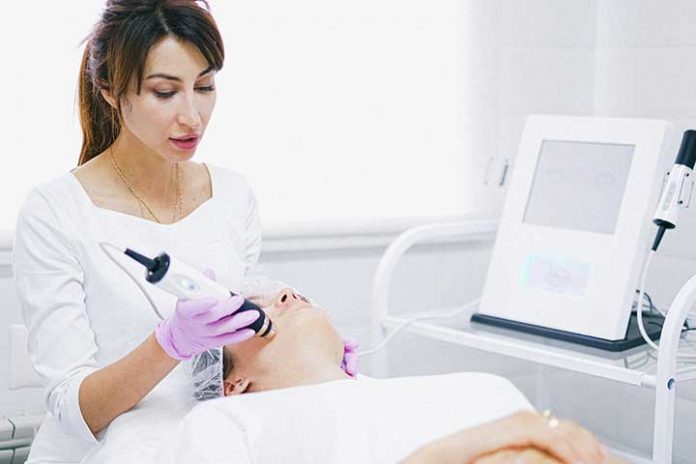 Laser therapy is safe because it uses only low-intensity laser beams that do not cause discomfort or damage the hair. You can do it in the salon or comfortably at home with special devices such as Let's find out about laser hair treatment, one of the most effective remedies to stop hair loss, prevent breakage and stimulate healthy growth. The new frontier in hair care comes from the United States and promises to solve hair loss problems such as androgenic alopecia and prevent weakening with strong and healthy growth. The hair laser is one of the most effective remedies to thicken hair, stop thinning and revitalize it in the long term. the laser helmet, the laser brush, and the laser comb. If you are a woman and you want to solve the problem of hair loss once and for all or strengthen it, you have to keep reading this guide. We explain how laser hair treatment works, how to use it, how many and what results you can get, and which are the best laser devices on the market.
What Is The Hair Laser Used For, And How It Works
If you have come this far, because you have minor hair loss problems, you want to strengthen your hair weakened by stress and pollution or make it grow strong, shiny, and strong.
Laser hair treatment is a particular hair care technique that uses low-intensity lasers to promote scalp oxygenation to nourish the hair fiber and thus stimulate strong and healthy growth, reducing thinning and slowing down the fall. LLLT (Low-Level Laser Therapy) laser hair treatment was discovered in 1960 in the United States and only recently developed, approved by the FDA (Food and Drug Administration), and authorized in Europe by the specialized Swiss Dermes Institute in trichology. Laser therapy is completely safe. The lasers used are low-intensity: unlike the high-intensity ones that give off heat and destroy the follicle, they are limited only to oxygenate the scalp better to give better nourishment to the strands that make up the hair. The technology is the same as the LED face masks, of which you can read this practical in-depth study to better understand its functionality and benefits.
Benefits Of Laser For Hair
Laser therapy is a gold mine of benefits for hair. Combined with other hair treatments such as anti-hair loss vials, anti-hair loss supplements, and in combination with shampoos, conditioners, and anti-hair loss masks, it contributes to:
Reduce scalp problems
Stimulate optimal blood microcirculation
Give more nutrients to the hair
Enhance the effects of hair cosmetics
Strengthen the hair
Slow down your fall and reduce thinning
Prevent capillary weakening
Regulate the production of sebum on oily hair
Preventing dandruff
Increase the production of keratin
Revitalize dry hair
Regenerate fine and thin hair
Give shine
For these reasons, laser hair treatments are considered among the best remedies for hair loss with long-lasting results.
Also Read: Myths And Truths About Hair Growth
Use And Contraindications Of The Hair Laser
You can undergo laser therapy in the salon or the comfort of your home using laser devices designed for the purpose. But when to use the hair laser? Before undergoing the therapy, it is strongly recommended to carry out a check-up to evaluate the health of the hair care and to have the approval of a professional. The hair laser is recommended in non-severe cases of hair loss, weakening, breakage, thinning, and loss of thickness and volume. You can also use it to stimulate better growth of your hair, to make it stronger and shinier, or revitalize it or make it less greasy.
Usage is safe and easy. Apply the laser device on clean, dry hair, not treated with styling products, for a few minutes as per the manufacturer's instructions. The treatment can last from 90 seconds up to 10 minutes per session. The hair laser is painless, causes no side effects, and is suitable for all hair and skin types. After the treatment, it is forbidden to wash your hair, expose yourself to the sun, and exercise for the next 24 hours.
Hair Laser: How Long Does It Take For The Results?
The results of laser therapy are not immediate. The benefits are visible after two to three months of regular sessions in combination with a proper trichological treatment (vials or supplements) and products for anti-breakage and anti-hair loss cleansing.
But patience is amply rewarded. The results are concrete and long-lasting: the hair is strong and healthy for up to 2 years.
Hair Laser Costs
If you decide to undergo laser therapy in the salon, the prices are 75 euros on average per session. The price varies according to the salon, the device used, and the city.
Laser hair devices such as helmets, brush, and comb cost between 400 and 2000 euros. It is a long-term investment with real and tangible hair health benefits.
Hair Laser Buying Guide: The Top 3 Of The Best
You understand how it works, have seen the results with photos of the before and after, deepened the topic, and now you are ready: you would like to buy the hair laser to use at home, but you do not know how to choose it, where to buy it and on which one to bet.
Together with the experts and based on the honest opinions of those who have tried it, we have selected for you the three best devices for laser hair therapy by carefully evaluating criteria such as:
Effectiveness because these are the ones that work best and give the best results in terms of energy on growth, slowing of the fall, and strength;
Construction materials because they resist over time, do not overheat, and are safe for the health of your hair;
Functionality because they allow you to intervene on multiple hair problems;
User experience because they are easy and intuitive to use at home;
Value for money
We have chosen three: a helmet, a brush, and a hat. Here they are in detail.
Also Read: PRP Treatment After Hair Transplant
Hairmax Ultima 12 ™ Das Original Laser Brush Comb
Best hair laser brush Hair Max, an innovative company specializing in the cosmetic treatment of androgenetic alopecia, combines practicality and effectiveness with this easy and safe-to-use Ultima 12 ™ brush. Ultima 12 ™ is a laser comb that works like a brush. It is beneficial in stimulating hair growth and blocking its fall thanks to the 12 medical laser LEDs that make it up to the soft touch teeth that make brushing comfortable and painless.
How To Use It
The HairMax Ultima 12 ™ laser brush should be used at least three times a week for a minimum of 8 minutes per session. It begins by brushing the front and then moving to the scalp's front, back, and sides. Maintenance is easy: clean the laser comb with a microfibre cloth or a cleaning wipe. The brush is fully rechargeable, equipped with a cordless holder, and easily transportable thanks to its lightweight and compact size.
We Recommend It Because:
Convenient for daily use
Easy to maintain
Practical and compact
Results after three months
Hair Max Hair Growth LaserBand 82 Comfort Flex
Best laser helmet The laser helmet for home use by Hair Max, the manufacturer of the brush in the previous point, follows the laser therapy in the salon. Characterized by the presence of 82 no led therapeutic lasers, it effectively stimulates the hair follicles to reduce hair thinning with an increase in hair density and thickness. Indicated for minor hair loss, it helps hair grow healthy and strong if used consistently. It has a flexible design that allows it to adapt to any body size. Its teeth are of the Soft Touch-type, specially patented to divide the hair during the treatment to maximize the delivery and effectiveness of the laser, thus better with enhanced effects. Equipped with a battery, it recharges anywhere and is light and comfortable to take on the road. How to use it – The HairMax laser helmet should be used at least three days a week for a minimum of 90 seconds per session. At the end of the treatment, the device switches off automatically with a slight vibration.
We Recommend It Because:
Professional results after two months
90-second sessions
With an ion battery included
Only therapeutic lasers without led
Capillus 82 Laser Therapy Hat
The best-known and most appreciated You don't like helmets, and would you do without the brush but don't want to give up laser hair? Don't worry: this laser will surprise you! Capillus 82 is a hat with integrated lasers that you can wear without attracting curious glances, and anywhere you prefer. It works in just 6 minutes and is made with flexible materials that make it the best practicality and comfort. Worn every day, it stimulates growth thanks to the 82 laser diodes that make it up. Outside is an excellent baseball cap, and inside is a well of technology that revolutionizes your hair, making it strong, thick, and shiny. Chargeable via USB cable, you can pack it in your suitcase and take it with you comfortably on the go. The results are visible after six months and last up to four years. It is a revolutionary treatment that stops hair loss and stimulates healthy and vigorous hair growth.
We Recommend It Because:
Lasting results for four years
It switches off automatically after 6 minutes
100% Flexible
Stimulates capillary growth and stops hair loss
Hair Laser: Our Considerations
Laser hair treatment is undoubtedly one of the best remedies to slow down hair loss until it stops, reduces breakage, and stimulates strong and healthy hair growth. Combined with proper trichological treatments and specific products, it helps to solve minor hair loss problems with lasting tangible results. Although this is a costly investment from an economic point of view, it is the ultimate solution to hair loss and breakage that many experts recommend.
Also Read: Tinting Hair: Essential Tips And Mistakes!