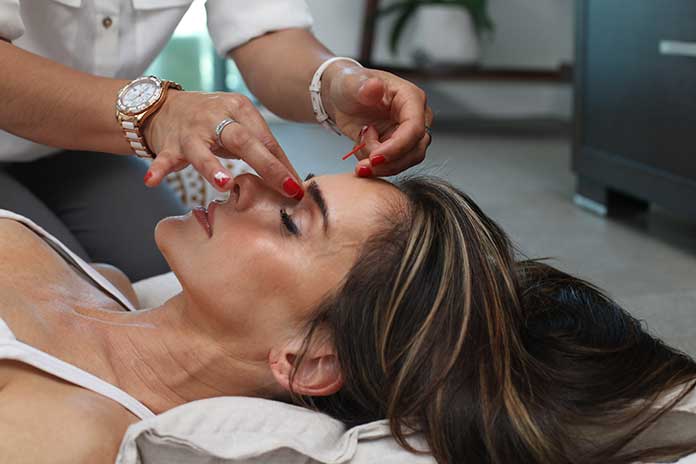 Face oil is trendy because it is particularly effective and natural. In our Face Oil Test, we tried what the magic bullet can do against skin problems.
Finding the right facial care is often not easy. If it is too aggressive, it can dry out the skin. It usually leaves an unsightly shine and causes blemishes if it is too rich. Instead of classic skin cream, many women now swear by facial oil.
But how good is the supposed secret beauty weapon really, and are the oils suitable for every skin type? We'll tell you what facial oil is all about, the benefits it brings and how to use it correctly. For our facial oil test, we tried several products in comparison and found the best for every skin type. We introduce you to our experiences on the subject of facial oil.
Why Should You Use Facial Oil?
The use of facial oil has many advantages. First and foremost, it is suitable for almost everyone, as there is the right oil for every problem and skin type.
But Face Oils Also Have Other Advantages:
Pure vegetable oil does not contain any additives such as silicone, parabens, or fragrances
Economical, as even a little oil has a good effect
More effective than cream, as oils penetrate deeper into the skin
Can be used in the morning and the evening and thus replace a whole range of care products
When choosing your face oil, you should make sure that it is pure, cold-pressed oil, preferably organic. Some face oils contain other active ingredients, fragrances or offer a mixture of different oils. That, too, is fine, depending on your skin type.
Which Facial Oil For Which Skin Type?
With facial oils, just like with creams, you should choose a product that suits your skin type. Especially people with oily, blemished skin should use a non-comedogenic oil that does not clog the pores. In general, facial oil can be used on dry skin, where it can provide moisture and blemished skin, as certain oils regulate sebum production and have an anti-inflammatory effect.
These Vegetable Oils Suit Your Skin Type:
Face Oil For Oily And Blemished Skin: argan oil, jojoba oil, grape seed oil, hemp oil, prickly pear seed oil
Face Oil For Dry Skin: olive oil, almond oil, rosehip oil, avocado oil, apricot oil
Face Oil For Irritated And Sensitive Skin: borage oil, evening primrose oil, currant oil, hemp oil, marigold oil
Facial Oil For Mature Or Scarred Skin: avocado oil, macadamia nut oil, sea buckthorn oil
Also Read: Facial Hair Removal: 7 Tips To Reduce Pain
How To Use The Facial Oil
To use your facial oil properly, you should first cleanse your face thoroughly. Now comes the highlight: Don't pat the face completely dry, but apply the oil to the slightly damp face and massage it with your fingers. A few drops are enough to care for the face intensively.
Face Oil Test: For Blemished And Oily Skin
Jojoba Oil
Natural cosmetics rely on 100% pure, cold-pressed jojoba oil for their jojoba oil and are therefore free from parabens, silicones, or fragrances. It is, therefore, suitable for all skin types, especially sensitive skin.
Application
We used jojoba oil for a long time for our facial oil test. The oil can be dosed and applied to the face thanks to the pipette. About two to three drops are enough, making jojoba oil extremely economical.
Another Great Thing
The oil is absorbed very quickly and does not leave the skin shiny. The smell takes a little getting used to and taste: very subtle, natural, and a little bit tart and woody. But it does not contain any fragrances.
Our Conclusion
We used jojoba oil on combination skin for our facial oil test to see whether it can help against pimples and shine. The result is clear after regular morning use: Yes, it can! Other creams have made skin shiny or dry, flaky skin. Jojoba oil effortlessly balances the skin. Dry areas are optimally supplied with moisture, and oily skin areas are matt all day for the first time.
The Great Thing
The jojoba oil is a real all-rounder and can also care for hair or nails. Overall, the skin looks much more relaxed and clearer, even if jojoba oil is, of course, not a miracle cure, which can suddenly make all pimples disappear. We can recommend Junglück jojoba oil to anyone with sensitive, dry or impure skin.
Face Oil Test: For Dry Skin
Anti-Aging Carrot Oil
With ingredients such as carrots, arnica, chamomile, witch hazel, and vitamin A, carrot oil is said to help dry skin and reduce wrinkles. It is said to be suitable for all skin types.
Application
We tried carrot oil for a long time for our facial oil test on very dry skin. What is immediately noticeable is the somewhat unusual smell. The carrot oil smells oriental, slightly sweet, and tart. Overall, that doesn't bother us much, but the scent could be a bit fresher for our taste.
Dosing is also a bit difficult because the opening is quite large. You have to be careful not to get too much oil when tilting the bottle, as you only need very little. A pipette or a smaller opening would be more practical here.
The carrot oil is very economical, as one or two drops are enough to care for the face. The oil is quickly absorbed without leaving a greasy film.
Our Conclusion
After extensively testing the face oil for our test, we recommend it. The tolerance is great, and the skin feels nice and soft after use. The oil also ensured a natural complexion and a beautiful glow.
We could not directly determine that the carrot oil helps against wrinkles. Since well-cared-for skin is supplied with enough moisture but does not develop wrinkles as quickly, the oil is a great way to keep the skin elastic.
All in all, we can recommend carrot oil to anyone with dry skin.
Also Read: 5 Foods That Really Affect Our Beautiful Skin
Face Oil Test: Against Wrinkles
Anti-Aging Facial Oil
The regenerating oil from a mixture of vegetable and essential oils such as argan and lavender oil has a firming effect and should make the complexion glow. According to the manufacturer, it is suitable for all skin types.
Application
Applying it to a damp face is quickly absorbed and does not leave a greasy film. After application, however, you have to wash your hands. Otherwise, they will remain "oily" for a long time.
Big Plus
The oil naturally smells of lavender and is still fresh. While many lavender products give off a rather "old-fashioned" smell, this one here smells of fresh herbs and is reminiscent of summer.
Our Conclusion
After using the product for our facial oil test for a long time, we are satisfied. The oil cared for the skin wonderfully and made it supple. The donated moisture softened small wrinkles.
Especially in the cold months, the oil is a real treat for the skin, and we can recommend it to everyone with dry skin. When used on combination skin, it is more suitable for dry areas because the oil is quickly too rich for the skin, especially in summer.
All in all, a great face oil, which is supposed to counteract wrinkles and at the same time smells good.
The Most Popular Face Oil On The Net
In addition to our Face Oil Test, we looked online for the most popular oils for the face. Particularly well-rated: One vegetable oil for oily and one for dry skin.
"Clarifying Day Oil" Face Oil
The facial oil regulates and balances natural cosmetic care products for inflamed, impure, and oily skin. The clarifying Day Oil normalizes sebum production and refines the pores with soothing ingredients such as carrot, almond oil, neem, and calendula.
Almond Oil
Almond oil is particularly suitable for sensitive and dry skin. If you believe the many positive reviews on the net, the soothing facial oil from Weleda ensures that your skin is soft and well-groomed. In addition, it can even be used to remove make-up.
Face oil is worth it for everyone who wants to rely on natural ingredients suffers from sensitive skin, or cannot cope with conventional creams. We wish you a lot of fun with your new facial care!
Also Read: How To Remove Blackheads From Your Face?