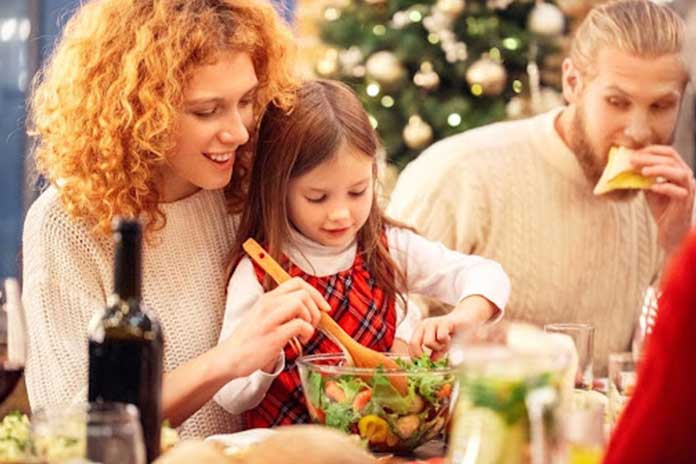 It's the most wonderful time of the year! But it can also be one of the most challenging. The holidays are a time for indulging, whether that means chowing down on a juicy roast ham or getting your sugar fix from the assortment of Christmas cookies and sweet treats everywhere. As a result, it can be challenging to stay on top of your healthy eating habits — especially if you're new to the healthier way of life. But it's entirely possible to ensure you're getting the right foods, whether that's eating more protein or sticking to your low-FODMAP meal plan.
That's why we've compiled seven tips that will help you maintain your new lifestyle and make eating healthy super simple during the holidays.
1) Get Enough Healthy Protein
One of the easiest ways to stay feeling full is to ensure you get enough protein in your diet. The holidays are a great time for healthy proteins, including poultry, seafood, lean beef, eggs and dairy products. But it can be challenging to get enough high-quality protein if you're indulging in everything from apple pies to Christmas cookies.
A high protein diet, around 30 percent of your daily calorie intake, can help reduce cravings and promote weight loss. And eating healthy protein at each meal means you are less likely to overeat throughout the day. If you're having trouble with how much of your plate should be protein, a good rule of thumb is to aim for a palm-sized serving or two.
2) Meal Plan and Meal Prep
Meal planning doesn't have to be complicated. It's as simple as figuring out a few key meals for the week, making your grocery list and sticking to it when you head out. Meal prepping can be a bit more complicated, but it's well worth the time. Having your meals already prepared means you aren't tempted to order out or eat high-calorie foods at restaurants, saving you time and calories in the long run.
If you're finding it tough to meal plan and prep during the holidays due to a busy schedule, here are a few tips:
Use your crockpot. Slow-cooked meals can be prepared in large batches ahead of time. They also require little prep work, meaning you have more time to enjoy your guests and holiday gatherings.
Cook a couple of dishes that can be frozen for later. Soups or stews often freeze well and make great options for the cooler months. They also come in handy when you need a last-minute meal option and takeout looks really tasty.
Make a grocery list organized by store section or department before you head out to save time and money. Each meal should also have a corresponding list at the bottom of the page with ingredients needed for each dish. This way, you don't forget anything.
Also Read: How Does Healthy Eating Work?
3) Don't Skip Meals
The holidays are a busy time, but the worst thing you can do is start skipping meals. That's because you end up having too few calories when your next meal rolls around, which can lead to poor food choices. It's also hard to avoid high-calorie foods if you are running on fumes by dinnertime.
The best way to avoid this is to make sure your morning, afternoon and evening meals are all planned out ahead of time so you can stay on track. Of course, you can try intermittent fasting which works great with a variety of diets, but be sure to stick to your regular meals as closely as possible. During the holidays, it's also essential to have backups in mind just in case you can't find a healthy option when you are out. That way, you aren't left scrambling for something to eat when your stomach is growling.
4) Keep Healthy Snacks Close at Hand
The holidays are filled with delicious, high-calorie foods. While they're tasty, too many is not a great thing. When you find yourself hungry, it's very tempting to reach for the nearest food you can find. This is especially true if you are surrounded by pastries, cookies and cakes.
If you want to combat this problem before it even shows up, keep healthy snacks close at hand so when your stomach starts growling, you have something to grab quickly. Some great choices are peanut butter packets, protein bars, trail mix, protein powder sachets, yogurt, fruit and veggies. Choose options you genuinely like eating so that you're more likely to grab one when the time comes.
5) Take Healthy Food with You
If you're traveling domestically or visiting friends and family locally, but don't know what awaits you at the other end, take some healthy food with you. This is especially true if you're following a particular, medically-important meal plan or diet that requires specific foods.
Invest in special containers or bags to transport your food and double-check to see what you can take on flights with you. You might be surprised! For example, suppose you're following a Mediterranean diet meal plan with pre-made, packaged meals. In that case, you may not know that those types of meals can actually be TSA-approved! It's true! Just make sure you know the TSA rules to avoid any annoying mishaps.
6) Keep Your Food Intolerances and Sensitivities in Mind
For those of us with food intolerances and sensitivities, the holidays can be a real landmine. For example, if you're gluten-intolerant or following a low-FODMAP diet, it's important to stay vigilant going into the holiday season. One or two "cheat days" can really derail your journey towards food freedom.
To stay on track, avoid temptation by packing a snack before you leave the house and keeping some appropriate options around for last-minute treats. You never know when you'll have guests or a wicked craving. So it's also essential to plan out your meals as much as possible to avoid having too many temptations at once.
Also, the holidays can sometimes reveal previously ignored intolerances and sensitivities as we overindulge in some of our favorites. It may actually be the perfect time for you to answer questions like "What is FODMAP?" and "How can I move towards food freedom?" It's never the wrong time to take control of your digestive health, especially since it's connected to so many other aspects of your overall well-being, including your mood, weight and more.
7) Treat Yourself
The worst thing you can do is be super restrictive — unless it's due to food allergies, intolerances or sensitivities. Watching everyone around you enjoying the delicious joys of the holiday season and partaking in none will leave you feeling like the Grinch or Scrooge pre-breakthrough.
Instead, make yourself a deal. Spend the whole day eating healthy meals and snacks until you feel satisfied. Then, when it comes time for dessert, let yourself enjoy some treats guilt-free (within reason). You can even include some of your favorite ingredients on the menu. After all, indulging is part of what makes this time of year festive!
Happy Holidays!
There you have it — seven tips to help make healthy eating during the holidays a little simpler and more manageable. We hope you find these helpful, and we wish you happy, healthy holidays!
Also Read: Coffee: Healthy Or Unhealthy?