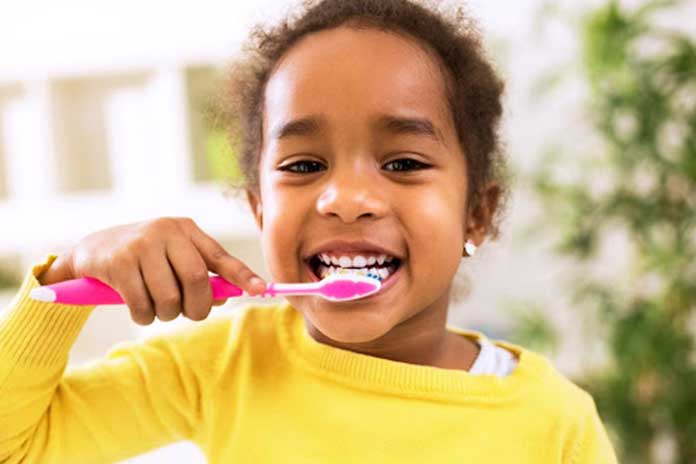 Children who learn healthy habits in their early years set a foundation for a lifetime. If you're interested in promoting positivity and wellness for your kids, read this guide. You'll get tips and tricks for encouraging positive habits in your little ones. Soon, being healthy will feel like second nature for everyone in the family.
Make a List of Important Healthy Habits
Promoting healthy habits can be easy and fun. First, decide which activities are most important for your kids. For example, you probably want them to get enough sleep and eat a healthy, balanced diet. Other goals include staying active and limiting screen time. According to the American Dental Association, it's essential to brush your teeth twice per day. Choose a fresh-tasting mint toothpaste or another flavor they like so that brushing is enjoyable for them.
For healthy teeth, avoiding too much sugar in snacks and beverages is also helpful. If you know what your family needs to do to stay well, it'll be easier to set healthy goals. You'll discover how to set an example and create a routine.
Set the Example
Children need help developing healthy habits. Start by setting the example as a grown-up. Participate along with your kids in activities like teeth brushing. Show them how to keep their gums and enamel free of germs and plaque. Buy a gentle toothpaste you can share. When you engage in the same habits, they'll feel like they're doing something important.
While they're learning about subjects such as healthy foods or wellness routines, provide them with your feedback. For example, let them know what fruits and vegetables you think are tasty. Give them suggestions about exercises or sports. Try new things with them. You can also tell them which techniques make it easier to wash their body or brush their teeth.
Create a Healthy Routine
A little repetition can go a long way. Create a weekly and daily schedule so your kids don't forget their healthy activities. Set a time to do things like eating breakfast in the morning or flossing at night. Try to do some of them together as a family.
Write the schedule on a kitchen chalkboard or set a timer on your smartphone. The same daily regimen will help to reinforce positive habits. You may even find it helps you and the other adults in the house to stay on track.
Also Read: Changing Habits: 5 Foods To Avoid In Old Age
Make the Activities Fun
One way to encourage self-care is to make it more fun. If your kids need encouragement to brush their teeth, swap out their usual toothbrush for a sonic one. A sonic toothbrush for kids cleans more effectively than a manual brush.
You'll have peace of mind that they are practicing good oral health habits, and they'll like that their brush looks like their favorite animal. Choose from creatures like pigs, penguins and pandas. This brush cleans all teeth at once, so they never miss a spot. Along with being adorable and never missing a spot, their sonic toothbrush includes red light for better gum health and blue light for killing bacteria.
If you have older kids, you can get them a hands-free toothbrush. With this innovative technology, they can clean their teeth while finishing their homework or scrolling through their smartphone. As with the children's sonic toothbrushes, blue light kills oral bacteria. A built-in gum massager prevents periodontal disease by stimulating healthy blood flow. They'll be excited they have the latest technology while you know they're actually brushing their teeth.
For children who don't want to bathe, it's all about the ambiance. Entice tweens and teens with bath bombs and shower steamers. Some kids like listening to music with a waterproof speaker. If you have little ones, try mixing a gentle baby wash and some water with cornstarch and food coloring. You'll create easy DIY bathtime paints that won't ruin your glass or tile.
Give Positive Reinforcement
Healthy habits deserve positive reinforcement. When your kids are doing a good job, tell them. Compliment them on choosing a piece of fruit instead of french fries. Let them know they're helping themselves to grow big and strong. If they remember to brush their teeth on their own, cheer them on or give them a small reward like a sticker. They'll be proud of their behavior.
Another way to offer positive affirmation is to share common ground. Let them know how much you like to use your electric toothbrush or drink freshly squeezed juice. You'll bond together over healthy activities. Your positivity will give them the confidence that they're making excellent choices.
Check in with Your Children
Partner with your kids to create healthier habits. Observe smaller children and then adjust their schedule or make activities more enjoyable. If you have older kids, ask them how they're doing. They may need an upgrade when it comes to a toothbrush or facial cleanser. Teens may feel encouraged if they're working on their appearance. Consider adding gentle teeth whitening to their brushing and flossing. You can always adjust the schedule if they feel rushed in the morning.
Feel free to change your regimen if it works for your family. Remember to stay flexible with your habits as your kids get older. In time, some may need less assistance with their self-care.
Creating Healthy Habits for Kids
When kids learn how to be healthy, they can live a life of wellness. Show them what's important when they're young, and they'll take their habits along with them. As you teach little ones, start simple. Babies can learn that bathing and brushing their teeth is part of their nightly routine. As they get older, you can add more expectations. Remember to stay positive and share with them along the way. They'll soon discover that their wellness routine helps them stay healthy and confident.
Also Read: 7 Important Healthy Habits You Need To Incorporate In Your Life In 2022