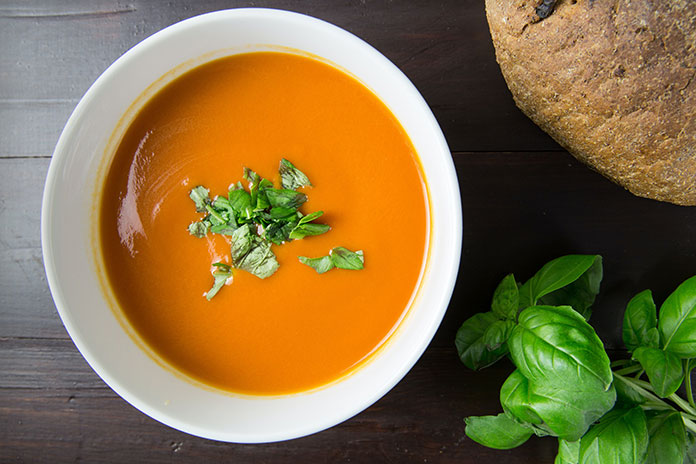 With the arrival of autumn, the days become shorter, and the leaves begin to fall; this is the perfect season to enjoy the first autumn soups. Healthy, light and at the same time tasty, these soups are prepared with seasonal vegetables and legumes, enriched with spices and aromatic herbs. In this article, we see how to prepare 7 autumn vegetable creams, simple dishes that heat, satiate and provide numerous essential nutrients, with particular attention to shape.
What Is Vegetable Cream Soup, And How Is It Made?
One of the typical dishes, among the most popular autumn recipes, velouté is a soft, dense and consistent cream obtained by blending vegetables or legumes and adding vegetable broth, usually prepared with carrots, onions, celery, potatoes and cherry tomatoes. But not only. The velouté is also characterized by other aspects that make it so and that distinguish it from vegetable purée.
What Is The Difference Between Velouté And Vegetable Puree?
What distinguishes the velouté from the vegetable puree is the consistency. Velvets are thicker creams thanks to the addition of thickening ingredients such as butter, flour, milk, cream or egg yolks. However, to make a soup lighter or vegan, it is possible to omit or replace some more caloric or animal-based ingredients.
For example, potatoes are a popular choice for thickening velouté thanks to the starch they contain. Depending on the desired consistency, you can add one or two medium potatoes (about 150-300g) to the basic recipe. An alternative is using potato starch extracted from the potato, of which you mix a couple of spoons (about 15-30g) with a bit of cold water to add during cooking.
Also Read: Vegetable Proteins: How To Manage A Meatless Diet
What To Put In The Velouté, The Ingredients
The versatility of cream soups allows you to experiment with various ingredients to create unique and tasty dishes: croutons, spelt or kamut, and spices such as turmeric, ginger, rosemary, marjoram, thyme or nutmeg.
Other Velvety Soups (Spring And Summer)
In addition to autumn soups, there are cream soups that can also be eaten in other seasons, in spring or summer, in the freshest version with the typical vegetables of the period.
Velvety Asparagus
The asparagus soup is a rich and creamy dish, perfect for spring when asparagus is in season. To further enrich the creaminess of the velouté, you can add a little cream or milk. Finally, we recommend a pinch of nutmeg or a squeeze of lemon to give even more flavor.
Pea Cream Soup
Pea cream soup is a light cream that can be prepared with fresh or frozen peas and enriched with cream or milk for greater consistency. Add some mint leaves to give a touch of freshness.
Spinach Poured Soup
This velvety soup is rich in vitamins and iron thanks to the main ingredient: spinach. Its delicate flavor can be flavored with garlic, onion and nutmeg. To make it thicker, as it should be, you can add potatoes or light cream.
Zucchini Soup
Courgette cream soup is a light and fresh dish, which can be served both hot and cold, and you can add herbs such as garlic or onion and season with a drizzle of raw oil.
Creamy Courgette And Potato Soups
Courgettes and potatoes with a pinch of nutmeg or fresh basil to flavor a dish suitable for the warmer season and autumn lunches or dinners.
Also Read: Zucchini: Properties, Nutritional Values, Calories