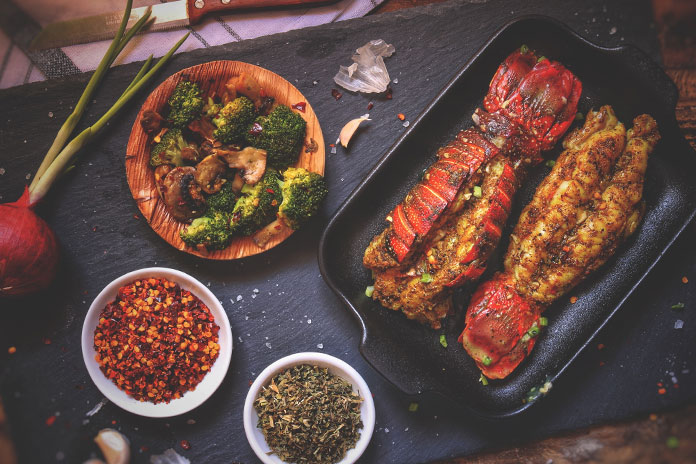 Seafood is an indulgence you can feel good about for its health benefits. What's tastier than succulent lobster? However, there's more to this dish than the standard tail — you can whip up dozens of delicious recipes.
What dishes deserve a special place of honor on your plate this season? Here are seven delicious summer lobster recipes to make your next cookout sizzle.
Why Lobster for Summer?
Lobster is the ultimate summer dish for many reasons. Newer harvesting techniques protect sea life like right whales while increasing yields and keeping production sustainable.
Perhaps lobster's greatest appeal is its versatility. You can enjoy the meat with a touch of butter or include it in multiple recipes to delight the whole family.
Health Benefits of Lobster
Lobster is a lean meat that's low in calories. That said, it packs oodles of health benefits into a small package. It's rich in omega-3 fatty acids, which are vital for brain and heart health.
Additionally, increasing your seafood intake may benefit your mental well-being. In several studies, omega-3s have shown promise in improving mood, and the vitamin D in this meat improves cognitive and memory function.
7 Delicious Lobster Recipes to Wow the Crowd
What can you do with the rich, succulent meat from lobsters? Here are seven recipes to delight any seafood lovers at your next barbecue.
1. Tails in Butter
4 lobster tails
¼ cup melted butter
3 cloves minced garlic
½ teaspoon paprika
1 teaspoon chopped thyme
1 teaspoon chopped rosemary
1 teaspoon chopped parsley
Salt and pepper to taste
Preheat the oven or grill to broil the tails at 500° Fahrenheit. Butterfly the tails, sprinkle them with salt and pepper, and set them on a baking sheet. Whisk the other ingredients in a small bowl, coating each tail. Broil for eight to 10 minutes or until brown, serving with additional melted butter.
Also Read: Seven Foods To Boost Your Immunity
2. Lobster Bisque
1 cup lobster meat
5 tablespoons butter
1 minced shallot
4 tablespoons flour
2 cups milk
1 cup heavy whipping cream
1 cup chicken stock
1 tablespoon tomato paste
1 teaspoon salt
Pinch of paprika
Pepper to taste
Chives to garnish
Melt the butter in a medium pot over medium heat, add lobster and shallots, and cook until shallots turn soft. Add the flour and blend until golden, then add milk, cream, chicken stock, tomato paste, salt, pepper and paprika. Reduce heat and stir until thickened. Serve garnished with chives.
3. Lobster Mac and Cheese
2 cooked lobster tails
½ cup grated gruyere
2 ½ cup grated cheddar
½ cup grated parmesan
½ stick butter
3 tablespoons flour
2 cups whole milk
½ teaspoon garlic powder
½ teaspoon mustard powder
½ pound cooked elbow macaroni
Salt and pepper to taste
Melt butter in a large saucepan, adding flour and stirring until thickened. Slowly whisk in the milk, going slowly for creamer end results. Add three cheeses, saving a bit for topping. Add the remaining ingredients, blending well, then add the lobster and macaroni. Transfer to a baking dish, sprinkle with remaining cheese and bake for 20 to 25 minutes or until golden and bubbling.
4. Lobster Polenta Pizza With Sun-Dried Cherry Tomatoes
One box instant polenta
8 ounces mascarpone cheese, room temperature
8 ounces fontina cheese
2 roasted garlic cloves
1 tablespoon olive oil
2 tablespoons melted butter
2 to 4 lobster tails
1 jar semi-dried cherry tomatoes
Fresh basil and parmesan for topping
Preheat the oven to 450° F. Prepare the polenta, pressing it into a thin layer on a nonstick baking sheet, and baking for 25 minutes or until slightly crisp. In a separate bowl, stir the crushed garlic into the marscapone.
Meanwhile, cook the tails in olive oil and butter. Allow to cool, then chop into small pieces. Finally, sprinkle the marscapone blend over the polenta crust, sprinkle with fontina, and add lobster and tomatoes. Bake for 15 to 20 minutes or until the cheese bubbles, cut into slices, and enjoy.
5. Lobster Quesadillas
1 pound lobster meat, cooked
1 12-inch flour tortilla
1 cup shredded cheese
4 tablespoons cilantro-lime salsa
¼ cup pico de gallo
2 lime wedges
You can prepare homemade cilantro-lime salsa and pico de gallo, or purchase store-bought. Heat the tortilla on a griddle, sprinkling the shredded cheese over the top. Add the lobster meat and fold the tortilla, cooking until the cheese melts. Serve with a side of pico and salsa, and garnish with lime wedges.
6. Lobster Dip
1 8-ounce package of softened cream cheese
1 7-ounce can of drained lobster meat
4 tablespoons softened butter
1 tablespoon prepared horseradish
1 tablespoon minced onion
1 tablespoon lemon juice
Mix all ingredients in a medium bowl, blending until smooth. Chill in the refrigerator and serve with crackers or French bread.
7. Kennebunkport Lobster Grilled Cheese
½ to ¾ stick butter, room temperature
1 teaspoon chili paste
½ cup and 4 ounces mascarpone cheese
2 thinly sliced scallions
¼ cup diced tomatoes
4 slices country-style bread
4 thin slices provolone
½ cup arugula
1 cup coarsely chopped Maine lobster
Stir together chili paste and butter in one dish. In another, blend mascarpone, scallions and tomatoes. Spread the mascarpone mixture over both slices of bread, top with provolone slices and arugula. Layer lobster on top of the arugula and form into sandwiches.
Melt butter-chili mix in a saucepan over medium heat. Spread the remaining butter over the outside of the bread. Cook sandwiches for three minutes per side, or until golden brown and the filling is warm.
Serve Up Some Delicious Lobster Recipes This Season
Lobster is the perfect light meat for summer. It's delightful in multiple dishes even non-seafood lovers can enjoy. Whip up some of these delicious lobster recipes to please the crowd at your next cookout this summer or elevate Fish Friday to new heights.
Also Read: Miso In Macrobiotic Cuisine And Two Recipes