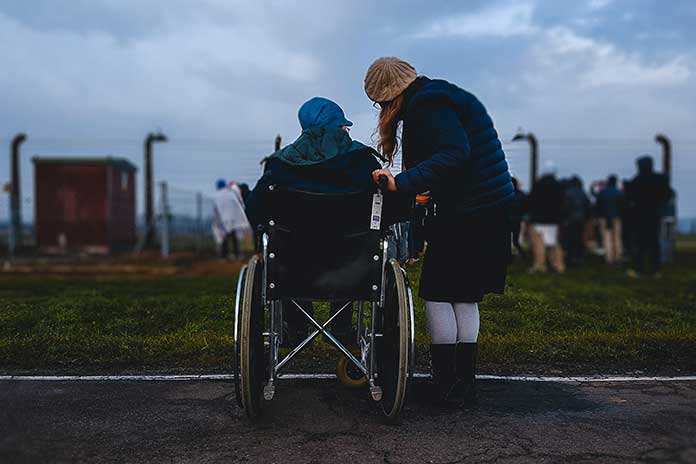 Living with a disability holds a variety of challenges, from mobility struggles to maintaining independence. Initially, learning to accept a disability diagnosis is a whole challenge of its own. And beyond this obstacle lies a heap of living changes.
But even so, it is possible to live a full life with a disability and hold onto some level of independence along the way. Thanks to modern technology and valuable services, it's now safer for disabled individuals to live alone.
With these valuable tips, you can hold onto your independence and maintain a high quality of life, even if you are living with a life-long disability.
Invest In A Medical Alert System
A medical alert system is an excellent solution for seniors who wish to age in place and avoid moving to a retirement facility. At the same time, these innovative systems are also beneficial for those living with a disability.
With this, you'll be protected by fall detection tech and innovative monitoring solutions that can also identify other types of health crises. These emergencies range from stroke and heart attack to seizures and other instances of chronic health conditions.
When the system detects an emergency, an automated alert will be sent to relevant emergency services nearby. What's more, because these systems typically include wearable devices, if you can't reach a wall-mounted panic button or your smartphone, help will still be alerted immediately of the emergency.
Upgrade The Bathroom
The bathroom is one of the most challenging rooms in any home for any individual with a disability. Moreover, bathrooms are also at high risk when it comes to injuries like slips and falls.
Fortunately, there are ways to enhance a bathroom to make it substantially more accessible. You can install grab bars near the toilet and vanity. In addition, installing a walk-in bath or shower is also an excellent choice. Lastly, add non-slip flooring pads to reduce slip and fall risks.
Widen The Doorways
If you can make more extensive home improvements, consider widening the doorways. This project will make it easier to move around within your home in a wheelchair. Moreover, even if you only need to use a walker, wider doorways will still add accessibility to your home.
Install Grab Bars And Railings
Grab bars and railings are pretty affordable and relatively easy to install. With this, your home will become more accessible and substantially safer as well.
Install grab bars and railings in critical areas around your home. These key areas will include the bathroom, the kitchen, near stairs and steps, and other places where extra support can come in handy.
Prioritize Mental Wellbeing
While there are several ways to upgrade a home and make it more accessible, it's also imperative to look after and prioritize your mental wellbeing. If you don't, maintaining your independence will be even more of an uphill battle.
Unfortunately, conditions of the mind like depression and anxiety often strip individuals of independence, whether there is a disability in the mix of things or not. However, because you are living with a disability, the risk of depression is a bit higher.
Take care of your mental wellbeing by adding self-care activities to your daily or weekly schedule. Spending time with yourself doing the things that you love to do most will have a positive impact on mental health.
Investigate Your Diet
If you aren't eating well, you won't be living well. Even though convenience meals and fast foods might be the easiest solution, especially when considering that navigating a kitchen can be challenging if you are living with a disability, it's vital to eat healthily.
Your diet must contain enough of the proper nutrients, or mental and physical wellbeing will decline. It's wise to create a meal plan and search for simple meal options if you aren't a fan of cooking.
Moreover, if your kitchen is challenging because of mobility issues, you can consider kitchen improvements that will enhance accessibility. With these improvements, the kitchen layout will aim at allowing wheelchair access, while cabinets and other features will be lowered to heighten accessibility even more.
Change Door Knobs
Doorknobs and some faucets can be another issue for anyone who is living with a disability. Instead of struggling with your existing door knob and faucet designs, consider upgrading them for accessibility. There are tons of designs out there that aim to add accessibility to a home.
Reconsider Furniture Placement
Your home's interior layout is another factor that impacts accessibility. Assess furniture layout and consider how to move things around to make living easier. Perhaps moving your sofas around or switching up your bedroom is all you need to endure fewer mobility struggles every day.
Install Home Security
Home security is essential for everyone, but these systems also add independence for individuals with a disability and seniors. A home security system acts as a guardian angel in safety emergencies, so it's worthwhile to opt for a modern home security system to add important safety to your living environment.
In addition to home security, you can also consider home automation and home assistant gadgets like automated vacuums. These add convenience and can enhance independence as a result.
For most individuals living with a disability of any kind, holding onto independence is imperative. Even though you might need to let go of some independence, you can still be independent.
The above home changes and suggestions are often enough to ensure an individual can lead an independent life. Because these solutions are also suitable for senior care as they enhance safety, many disabled individuals and seniors are able to live alone.
Even so, if you do need some level of care but don't want to move to a care facility, you can consider the above solutions and the extra assistance of a live-in caregiver. Live-in care is affordable, and you will receive round-the-clock care without sacrificing more independence. A live-in caregiver also provides companionship, which can be of fundamental importance, especially to seniors choosing to age in place.