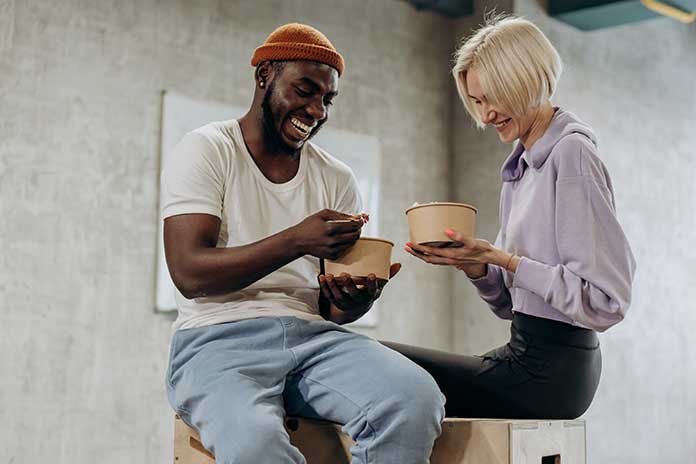 The search for a healthy diet has conquered more and more people worldwide. But do you know what fitness food is all about?
The fitness food market has been growing because, over time, more and more people realize the advantages of eating better, thus achieving a healthier, more satisfying, and more active life.
Thus, it is normal for the food sector to pay attention to these changes, and an example of novelty in this market is the sale of fitness lunch boxes, which has gained notable space in recent years among entrepreneurs.
And many intelligent people are already managing to get a good extra income with this business, you know?
The great advantage is that, at first, the initial investment is low, attracting many people who want to start from scratch since the demand for this type of service is increasing.
The food market itself has always been busy, but this "emerging" sector of fitness food, in particular, is getting popular. This happens because it is based on healthy and tasty foods simultaneously.
We prepared this article better to understand Brazil's fitness food market situation. And, with that, know the reasons why it is being so successful!
What Is Fitness Food?
The objective of those who adopt a fitness food menu is to combine this diet with regular physical activities to achieve the desired results efficiently and healthily.
This applies to those who want to improve their physical shape with weight loss or muscle mass gain and those just looking for dietary reeducation.
With the correct items and a little creativity and daring, it is possible to create simple and practical recipes and healthy ones to obtain tasty and filling foods.
You don't have to deprive yourself of dishes you like; know how to have limits.
This diet provides nutrients that help with muscle recovery and development in those who practice physical activities.
Some foods that can be considered part of a fitness diet are an example: sweet potatoes, brown rice, chicken, eggs, and broccoli, in addition to foods with a high concentration of proteins in general.
That's because proteins take longer to digest than carbohydrates and, therefore, can keep a person feeling full longer while providing the energy needed for daily tasks.
It is essential to say that, as well as a functional diet, adopting the fitness food menu in the routine means always giving preference to natural and fresh foods, avoiding fat and preservatives.
Next, we will see a little more about the characteristics of the fitness food market.
Main Components Of A Fitness Menu
The fitness menu is known for containing a very balanced and healthy diet, which includes in its list a variety of foods rich in good nutrients and low in fat.
See below for the benefits of some of these essential ingredients.
Egg: The egg is a food of animal origin rich in proteins of high nutritional value, good fats, and vitamins.
Oilseeds (walnuts, chestnuts, almonds): These are sources of protein and essential fats that are not produced by our body, so they must be included in the diet.
In addition, they are also rich in B vitamins, which help increase mood, and in minerals, which help in the absorption of iron and, consequently, in the transport of oxygen to the muscles.
Seeds: Chia and flaxseed are sources of omega 3, help produce muscle mass and collaborate in the performance of training.
They are also essential antioxidants and therefore prevent inflammation and are rich in fiber, which prolongs the feeling of satiety.
Oat flakes: It is also very rich in fiber. In addition to satiating, it also reduces sugar and fast absorption.
Sweet Potatoes: A favorite of most healthy recipes, sweet potatoes are a source of low glycemic carbohydrates. Yams are also a great option.
Tapioca is gluten-free and an easily absorbed carbohydrate source, which provides energy for training and contributes to muscle recovery.
Avocado: Rich in the so-called "good fat," this fruit also has anti-inflammatory action and contributes to recovery after physical training.
Beetroot and Watermelon: These two tasty foods help produce nitric oxide, which is very important for improving performance in workouts.