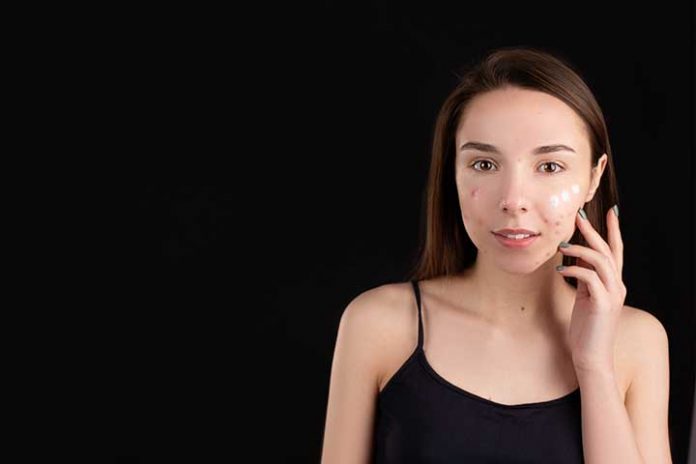 When the tip of the nose turns red and hurts, most people already suspect it: A pimple is on the march. We'll tell you the best advice against spots and how you can get rid of them quickly.
How Do Pimples Develop?
Usually, the one in the sebum glands' skin sebum produced is transported through the hair canal to the skin's surface. This protects the skin from drying out and from harmful environmental influences. However, if the glands produce too much sebum, this can clog the pores. The sebum cannot escape, bacteria multiply, and a pimple develops.
So this is a purely biological process. But what does that mean in concrete terms? Can you influence these processes? And above all: what can you do against pimples when they are there? From skin cleansing to face masks to make-up. We'll reveal 8 practical tips and home remedies for pimples!
Hands Off!
The first and most important rule to get rid of pimples quickly is: Don't touch! Scratching, squeezing, and squeezing can cause spots to become inflamed.
In general, do not put your hands in your face! A lot of bacteria cavort on the palms of the hands.
Squeeze Out Pimples – Avoid Them If Possible
You got it. You should keep your hands off the pimples. But if there is no other way. Then we will show you here how you can hygienically remove spots:
First, you should clean the area with a disinfecting pimple pen.
Then carefully prick the abscess with a sharp, disinfected needle.
You can dab the escaping liquid with a clean cotton swab. Do not press any further to avoid possible inflammation.
Once the pus has been removed, you should disinfect the pimple again.
Also Read: 5 Foods That Really Affect Our Beautiful Skin
Facial Bath For Pimples
If you have too impure skin, midges, and pimples, then treat yourself to a facial bath regularly. It is best to take a steam bath with natural substances with an antibacterial effect and narrow pores. For example, a facial bath with:
Chamomile
Rosemary
Juniper
Orange peel
Grapefruit oil
Our Favorite: The Steam Bath With Chamomile
Because chamomile has a calming and anti-inflammatory effect. This is how you can easily prepare the facial bath yourself:
Put a few bags of chamomile tea in a bowl, pour hot water over them and let them steep for a moment.
Bend your face over the infusion, place a towel over your head, and "sweat clean" the skin.
But no matter which steam bath you use against your pimples: Make sure to let the skin cool down after the facial bath before each further application (cream, etc.) so that the pores have time to contract again.
Mask Against Pimples
Once the pores are open, you can put on an oil mask. The oil has an anti-inflammatory effect and promotes the healing of pimples. And this is how you make the mask yourself:
Beat two tablespoons of oil with an egg yolk to a creamy mixture.
Apply the show to the face and décolleté. Avoid the eye and mouth area.
After 15 minutes, rinse gently with lukewarm water.
Natural Tinctures For Pimples
Once the pimple has become infected, there are other helpful home remedies for pimples in addition to a facial bath and mask. For example, natural tinctures such as:
Zinc ointment
Calendula essence
Silver ointment
Tea tree oil
Dab and carefully clean the inflamed area with it!
Significant: Every skin reacts differently to the different active ingredients, so you should first try them on an inconspicuous area.
Also Read: Facial Peel For New Skin: Everything You Ever Wanted To Know
Make-Up Tips For Pimples
You don't want to go without your make-up despite pimples? Then it would be best if you considered the following:
Avoid High-Fat, Heavy, And Oily Products:
Such make-up can make pimples worse. Most compact powders are also based on an oil mixture and should therefore not be used.
Make Sure That The Product Is Not 'Comedogenic':
comedogenic ingredients such as algin, lanolin, and cocoa butter are suspected of promoting impurities such as pimples, blackheads, or acne. If a product is free of comedogenic ingredients, this is usually indicated on the packaging.
It is better to choose a loose powder and a light care gel as a make-up base. Before doing this, you should conceal the pimple with a concealer.
Please note: Do not apply with your finger, but use a cotton swab or a clean sponge.
Proper Skin Cleansing
The best tips against pimples start with prevention, which means with good cleansing and skincare:
You should wash your face thoroughly with a mild cleansing lotion in the morning and the evening.
In addition, peeling helps remove dead skin and open the pores. It is sufficient if you exfoliate twice a week.
Another tip: do not put your hands in your face! A lot of bacteria cavort on the palms of the hands.
Prevent Pimples: That Promotes The Development Of Spots
Sure, some people are predisposed to pimples and blackheads. But our – more or less healthy – lifestyle also plays a role: All tips against spots do not help if health does not play along. Alcohol, cigarettes, and stress are all common triggers for blemished skin and pimples. Lack of sleep can also cause bad skin.
For Permanently Clean And Pimple-Free Skin, You Should:
Avoid stress
refrain from smoking and excessive consumption of alcohol
get enough sleep
Last But Not Least, The Most Critical Question: Does Chocolate Make Pimples?
It's true: a healthy diet is essential for a beautiful complexion. But don't panic. We can reassure all chocolate-alcoholics for the time being: The statement 'chocolate and fast food cause pimples' has not yet been scientifically proven.
Also Read: 5 Foods To Get A Beautiful Skin